Are you an avid camper? Then it is good to know that your caravan or motorhome may be taken on board. Whether you have booked a campsite in France, England, Sweden or Corsica; just park the camper on the car deck of the ferry during the crossing. You do pay extra costs and you will have to book on time.
Tip 1: Book on time and book a flex ticket
Driving to the harbor at a venture is not a good idea anywhere. Car decks fill up quickly and there are limited spaces available for caravans and camper vehicles. This of course differs per shipping company, but don't take any risks and book on time! Tip: book a flex ticket and determine the exact travel date shortly in advance.
Ferry company
Stena Line
regularly has great offers for motorhomes and caravans, check them out here:
Stena Offers
Tip 2: Check the extra costs for a caravan or motorhome on board
If you take a caravan or motorhome on holiday, you pay for the extra space on the car deck. Fees vary by ferry company, specific ferry route, season, time of departure and by length of vehicle.
How much is it? Some examples
On the website of the relevant shipping company, you will find the exact rates for your departure date and ferry route.
RATHER THE BOAT THAN THE TRAIN – Are you traveling to France or England with your motorhome or caravan? You can travel cheaper by ferry than through the Channel Tunnel. A return ticket with the ferry costs approximately 300 euros for a camper in high season, and a train ticket via the Channel Tunnel costs about 400 euros. Moreover, there are stricter rules for campers, for example about the number of gas cylinders in your vehicle. For safety reasons, a gas (LPG) vehicle is not allowed to pass through the Channel Tunnel at all.
Tip 3: Measure the camper including the bicycle rack
When booking a car-plus-caravan ticket or motorhome ticket, you must specify the length and sometimes also the height and width. Check the site of the ferry service to see which categories apply and carefully measure your caravan or motorhome. That is including a bicycle rack or towbar! In case of doubt; measurements are taken in the port.
Tip 4: Book a cabin
Can you imagine yourself sitting on the deck in front of your own camper and enjoying the sun? Unfortunately, you are not allowed to stay in the camper or caravan during the crossing. There is one exception: Anek Superfastferries between Italy and Greece (see box). On all other ships it is not allowed and you must book a cabin for a night crossing.
CAMPING ON BOARD: IT IS ALLOWED HERE!
From April to October, you can camp on the ferry of Anek Superfast Ferries. These boats sail between Italy and Greece (Ancona/Bari-Patras routes). You simply stay in your own caravan or motorhome and use on board facilities such as showers/toilets and electricity. With camping on board you can relax in your own familiar environment and save on the costs for a cabin. Also ideal: your dog can come along!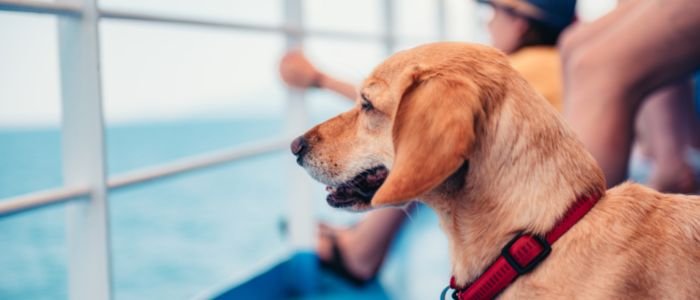 Use our ferry guides and maps