It's actually quite simple. Travel greener and more comfy by ferry, reduce your CO2 footprint and have an amazing experience at sea. Plane or ferry? We know the answer and share the 7 advantages of traveling by ferry.
Reason #1: Travel greener by boat
No more guilt about the impact of your trip on our beautiful planet. The ferry is an eco-friendly ticket to your holiday destination. You can have a positive impact by choosing the boat instead of the plane: you significantly reduce CO2 emissions.
You travel a lot more sustainabe by ferry.
Naturally, the emissions of a ferry also depend on factors such as weather conditions and loading of the ferry. And in many cases you will drive to the port by (gasoline) car. But even when you take all these factors into account, ferry travel is still significantly more sustainable than air travel.
FERRY USES LESS FUEL
A ferry sails very efficiently and uses significantly less fuel than an airplane. Ferry companies have also made a switch to electric sailing in recent years. We see more ferry companies with hybrid- and even fully electric ferries.
Reason #2: Travel more relaxed by ferry
Feel the fresh sea breeze on your face and let the stress slip away. Have you packed enough sunscreen? That's the only thing you have to worry about on the ferry. No long lines at security and suitcase hassle on the airport. Plenty of legroom and your fellow passengers sit at an acceptable distance. Also, the suitcase does not have to be weighed, because there are no restrictions on the weight of luggage aboard the ferry.
Reason #3: Magnificent views
Keep your phone at hand because these will be the most beautiful snapshots of the entire holiday! Surrounded by a shimmering blue sea, you watch over your shoulder and see the impressive coastline getting smaller and smaller. A few islands appear in the distance and as soon as the sun goes down you have the front row seat on deck.
Reason #4: Determine your own travel pace
The relaxed travel pace by boat allows you to explore the world more consciously. By choosing the ferry you also create more freedom in your travel schedule. Maybe you opt for a spontaneous few-day detour on that very cool island you come across along the way. The world's at your feet and you determine the route!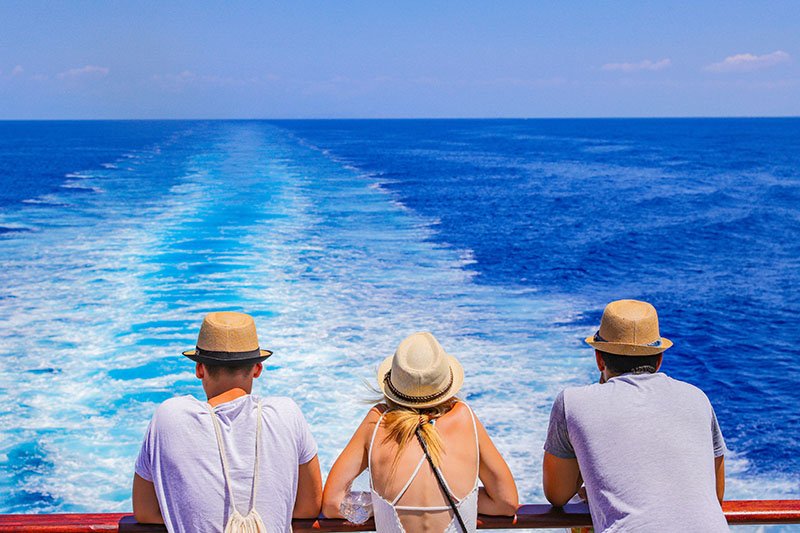 Reason #5: Meet new friends
While traveling on the ferry you will meet all kinds of people with interesting stories, from passionate world travellers to local islanders. Share adventures and tips as you gaze across the water together. The ferry is the place where beautiful friendships begin and memories are made.
Reason #6: Bring your dog on the boat
In almost all cases you can take your dog on board a ferry. Many ferry services have a special dog deck and pet-friendly cabins where you can stay with your four-legged friend. Check the conditions of the country you are traveling to in advance. Think, for instance, of a dog passport or vaccinations. You can read the complete guide on traveling with your dog on the ferry here.
Reason #7: (Kids) Entertainment on board the ferry
Aircraft entertainment is sometimes a bit disappointing and in the air you mostly depend on your own mobile devices. The ferry, on the other hand, has a range of entertainment options. From à la carte restaurants and movie theatres to casinos – life aboard a ferry is amazingly fun. Children also do not have to be bored for a second and can blow off steam in the play zone.
Use our ferry guides and maps