Crossings from Spain to Morocco
If you want to go to Morocco by boat, you can do so via different routes. You can travel to the east or west of Morocco if you get on the ferry in Spain. On this page, you can find the best crossings from Spain to Morocco. An overview of all ferries to Morocco can be found here.
Map with all ferry routes from Spain to Morocco
The Ferry-crossing from Spain to Morocco is a very popular way to travel to the North African country. Certainly, if you are going to stay longer in Morocco, it pays to go on your own transport and the ferry. You can choose from two crossings from the north of Spain or a short crossing over the Strait of Gibraltar or a slightly longer crossing over the Alboran Sea.
Timetable, availability, and compare prices
Booking your ferry tickets has never been easier! With our online booking module, you can easily find and book your desired ferry crossing in just a few clicks. Simply enter your travel dates and destination, and the system will show you all available options. You can then choose the one that best suits your needs and budget. It's that simple!
Two ferries from Barcelona to Morocco
If you prefer not to drive through the whole of Spain, you can opt for a ferry from Barcelona. These sail from Barcelona to Tangier and Nador.
Ferry from Southern Spain to Morocco
There are a number of short crossings from Spain to Morocco. These are relatively short and, therefore, less expensive. The shortest crossing takes only 1 hour. This is the ferry from Algeciras to the Spanish enclave Ceuta (by FRS). From here, you can continue your trip to Morocco. 
The shortest crossing is not always the quickest one. The border crossing from Ceuta to Morocco can take a lot of time, while the passport control on other ferries sailing directly to Morocco often happens on board. 
Crossing the Strait of Gibraltar
At just 44 km or 27 miles, the Strait of Gibraltar crossing is the shortest crossing between continental Europe and Africa. There is one direct ferry from Gibraltar to Morocco.
In the photo below, you can clearly see Morocco on the other side of the strait.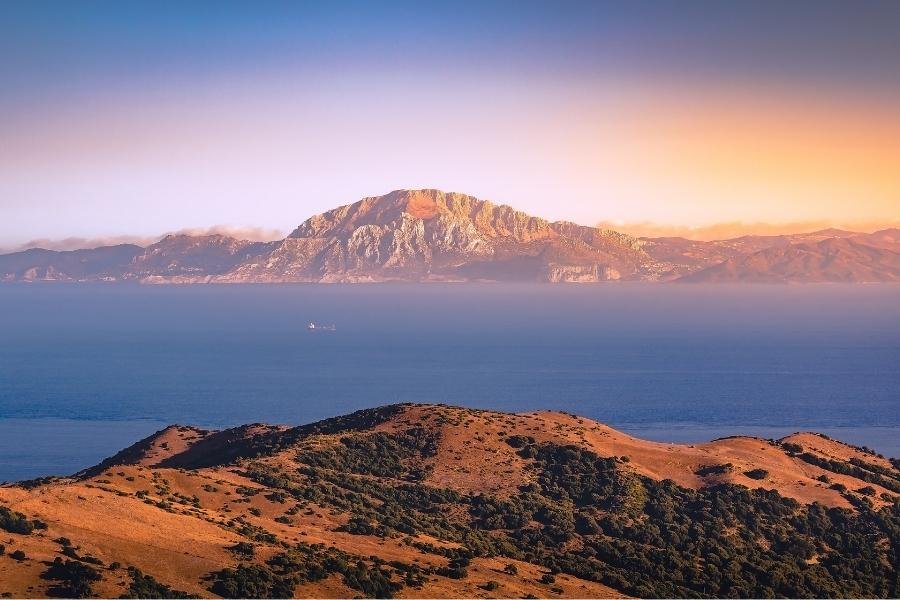 Several fast trimaran ships sail on this route, making the crossing a swift one. In just 1 to 2 hours you are on the other side. That depends on which crossing you ultimately choose.
Frequently Asked Questions: Morocco