Do you dare to swim with a bunch of hammerheads? Bimini is not that big, but the underwater world of Bimini is enormous and also incredibly beautiful. Bimini is the westernmost island in the Bahamas, located 50 miles east of Miami. Actually, there are 3 islands: North Bimini, South Bimini, and East Bimini. Now, let's talk to you about the must-see things in Bimini.
Just relax on Radio Beach
Radio Beach is one of the most popular beaches in Bimini. It's located in Alice Town, the tourist center of Bimini. This heavenly beach can be quite busy, but luckily Bimini is full of white sand beaches. So walk a little further and you will find a beach that is less crowded with cruise ship passengers.
Dolphin House Museum
A piece of art. The Dolphin House and the artworks inside are handmade built from scrap, waste, sea glass and other recycled materials that the owner found around the island. He is an artist who's inspired by the ocean and especially the dolphins. Don't forget to go to the roof, there's a functioning lighthouse and also an amazing view. Worth a visit!
Underwater in Bimini
Bimini road is an underwater rock formation. Is it the highway to the sunken city of Atlantis? Historians haven't figured it out yet, but it certainly is pretty.
At Bimini Bull Run you don't need to have the diving experience to see bull sharks in their natural environment. Just watch them from a safe cage underwater, or from above.
Rainbow reef is one of the most colorful, shallow reefs in Bimini. It's a protected marine park with lots of different corals and fish.
The SS Sapona shipwreck once was a cargo steamer that ran aground near Bimini during a hurricane in 1926. The shipwreck is half above the water and became a popular dive site because of the tropical fish attracted to it.
How do you get from North Bimini to South? Read more about
Shark Diving on South Bimini
and check
our
golden tip
regarding transport on Bimini.
Spot the hammerhead shark
The number one activity in Bimini is water sports. Go snorkeling on the reef, swim with dolphins or sea turtles, and scuba diving to see the sharks. On South Bimini you can dive for the great hammerhead. In South Bimini are some popular Scuba centers and a shark research center.
Bahamas day trip from Miami
Combine your visit to Miami and escape with a day tour of Bimini island. Travel across the Atlantic by ferry. Due to the short crossing, there is enough time left to enjoy the white sand beaches and try a variety of water activities.
Everything you need to know about your trip to Bimini
Why would you go by plane? The ferry is cheaper, more fun, and takes you from Fort Lauderdale to Bimini in just 2 hours. Find the ferry prices and FAQ on our Information page about Bimini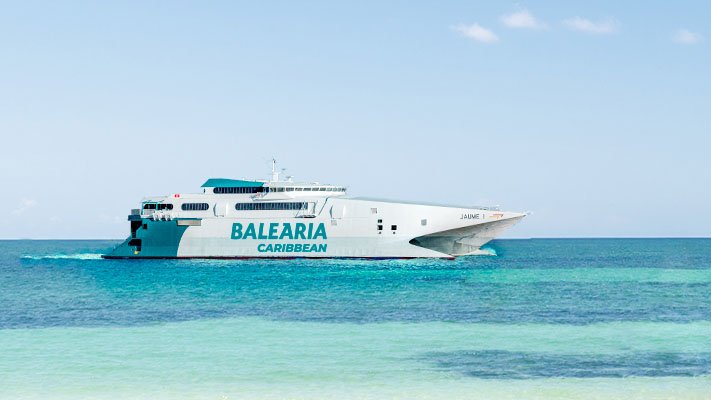 More useful links about Bimini, Bahamas: