Catamaran Ferries are faster than traditional 'monohull' ferries. These ferries can achieve much higher speeds. In Europe, you have several of these fast catamaran connections that you can take.
Take for instance the ferry on the connection between Hirtshals and Kristiansand: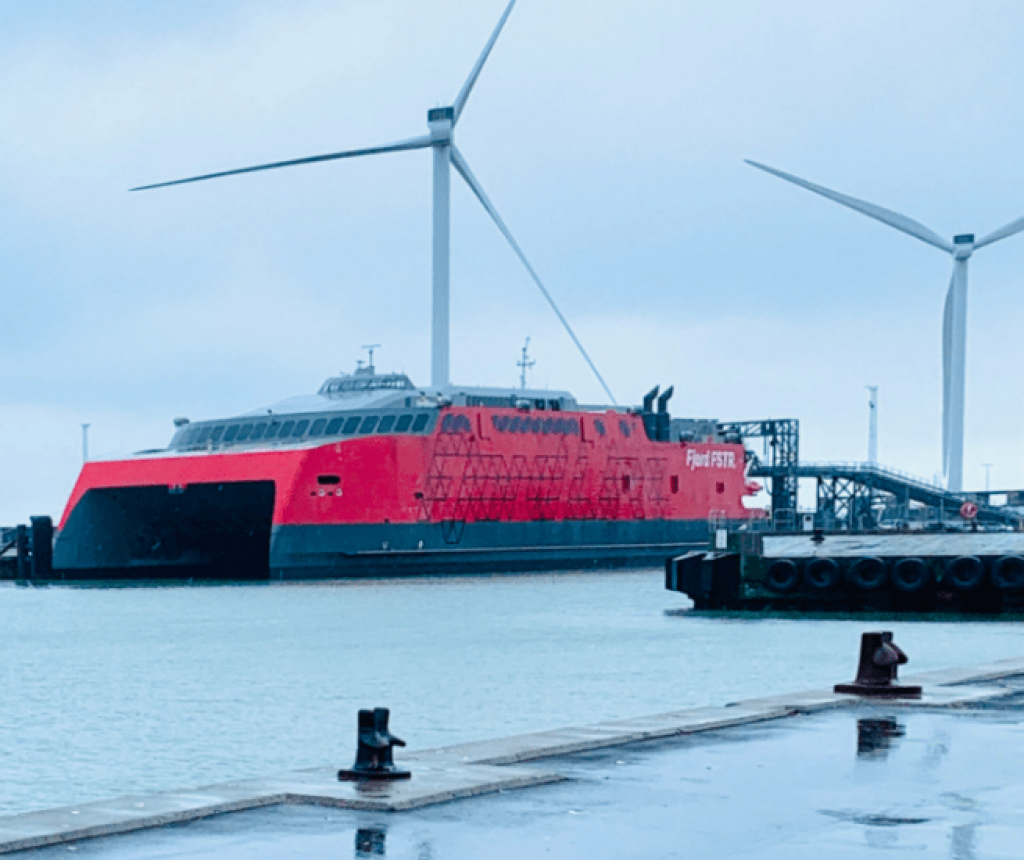 The Fastest Ferry
The Franciso ferry remains the fastest ferry, built by Incat:
HSC Francisco is a High-Speed Catamaran built by Incat in Hobart, Tasmania. Powered by liquefied natural gas, she is currently the fastest passenger ship in service, reaching a speed of 58 knots (107 km/h; 67 mph). The propulsion is by two GE LM2500 water jets. Connecting Buenos Aires with Montevideo.
A ferry connection is considered fast if more than 40 knots can be achieved. Only ferry catamarans make this. Boats that are often high and therefore have less friction with the water.
All fast Catamaran connections in Europe
Catamaran connections in Scandinavia and the Baltic Sea
Several Ferries in Denmark:

Aarhus – Odden
Rønne – Ystad (2 pieces)

Gothenburg (Sweden) – Frederikshavn (Denmark)
Gran Canaria – Fuerteventura ( Leonora Christina )
Hirtshals (Denmark) and Kristiansand (Norway)
Viking FSTR – Helsinki to Tallinn (Very fast!)
You also have these ferries in the British Isles, including from Stranraer to Belfast and ferries from England to the Channel Islands. Since these often change locations, it is difficult to pin them to one location or connection.
You also recently have more of these High-Speed ​​ferries available around Greece.
The Largest Catamaran Ferry
The largest diesel-powered catamaran ferry is the HSC Express 1 and 2 between Aarhus and Odden (as well as Rønne and Ystad) in Denmark. More information about this catamaran can be found here on Wikipedia . The newer variants of this Ferry. For example, the HSC Express 3 is slightly smaller, so it may well be the case that these will remain the fastest and largest catamarans in the world for a very long time.
UPDATE: By the way, the Express 5 will eventually become the largest.
Sometimes you hear that the Hodor pleasure yacht ( Astilleros Armon ) is the largest catamaran with 60 meters, but this is incorrect. It is much smaller than the HSC Express at 112.6 meters.
Images of the highest-speed Catamarans in the world