All possibilities to reach Amsterdam by ferry
Let's dive into your options right away. The cheapest way to cross the channel by ferry is simply the shortest connection: from Dover to Calais or Dover to Dunkirk. But that doesn't bring you to Amsterdam. You would need to drive (5 hours, on busy routes) all the way to Amsterdam.
That's not a convenient and relaxed way to start your holiday. If you want to end up in Amsterdam right away you have to use the ferry from Newcastle to Amsterdam. The other ferries that travel between the UK and The Netherlands bring you quite close so those are really good alternatives here.
Especially if you want to travel low budget and you want to reach Amsterdam as cheaply as possible you need to check out the prices of this connection. (Harwich-Hook of Holland)
Let's first have a look at all crossings on the map with ferry routes. We'll explain them in a better way later on. There is much to read on this page so be sure to scroll down!
Map with all ferry routes to Amsterdam
The ferry map gives a good impression of how you can get to Amsterdam from different regions within the UK. 
Things you need to know before your book your crossing:
You don't need a car in Amsterdam
In Amsterdam, you don't really need a car. But if you are planning to see more from the Netherlands, it might be handy to bring one. Public transportation is pretty good in The Netherlands and the country is small. A train from Rotterdam to Amsterdam only takes 41 minutes. So you can drive to the departure port of the ferry crossing and leave your car there.
Train to Amsterdam
Do you live in or around London? Then also consider the direct Train connection to Amsterdam. We don't like to say it (as a ferry website), but this is a very good connection. (You'll be redirected to Trainline.com a train booking website)
Compare ferry tickets to Amsterdam
Our online booking module makes it easy to find and book your desired ferry crossing to Amsterdam from the UK. Especially handy if you want to find the cheapest connection on the day you want to go to Amsterdam.
All ferry options to Amsterdam
Ferry to Amsterdam from UK duration
We looked at all the travel times, so you can compare how long it takes to get to Amsterdam by ferry.
The times are the sum of the travel time of the ferry + travel time to reach Amsterdam by car.
Ferry Dover to Calais: 6 hours 30 mins.
Travel time ferry + car to Amsterdam
Ferry Dover - Dunkrik: 6 hours, 45 minutes
Ferry Harwich - Hook of Holland: 8 hours, 15 minutes
Ferry Harwich - Hook of Holland 🌒: 10 hours, 15 minutes
Ferry Hull to Rotterdam 🌒: 13 hours, 15 minutes
Ferry Newcastle to Amsterdam 🌒: 16 hours, 45 minutes
From Dover to Calais is the shortest and most 'functional' crossing. The three ferries that sail during the night offer much more entertainment and you save on an extra overnight stay in Amsterdam.
Eurotunnel Shuttle: 5 hours 30 mins
Travel time train + car to Amsterdam
The shuttle is the train for cars that drives through the Channel tunnel. It is a more expensive alternative to the ferry but it has a one-hour time advantage compared to the Calais-Dover ferry. You can check the prices here.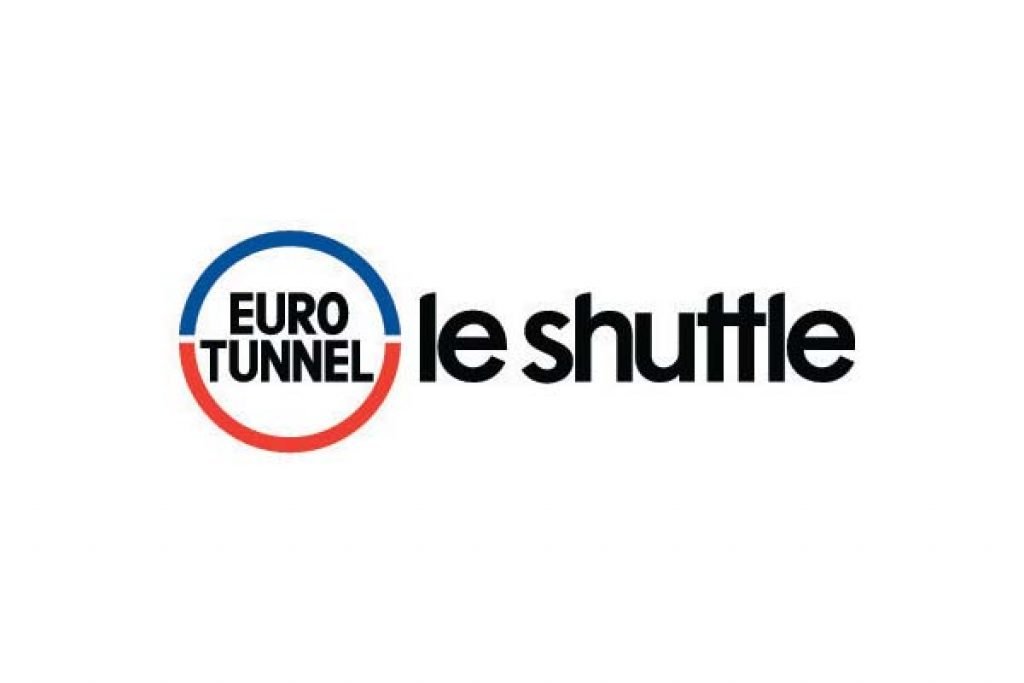 Ferry from Dover to Calais: 8 hours
Travel time ferry to Amsterdam as passenger by public transport
Ferry Harwich - Hook of Holland: 9 hours
Ferry Harwich - Hook of Holland
: 11 hours
Ferry Hull - Rotterdam
: 13 hours, 30 minutes
From Newcastle to Amsterdam
: 17 hours
Ferry Dover - Dunkirk: not possible as a foot passenger
When you compare the travel times for foot & public transport passengers, you can see that bringing your car often has only a limited time advantage. This is mainly due to the transfer busses that take you directly to the center of Amsterdam. You almost always have to park a car on the edge of the city and then continue with public transport.
Eurostar Amsterdam: 4 hours 20 mins
Travel time train to Amsterdam as footpassenger
The Eurostar is the fastest and greenest connection for those who can easily travel to London St Pancras. The prices for this train, which by the way cannot accommodate cars, are usually quite attractive. (Trainline)
We go into more detail about the ferry routes:
A luxurious mini cruise / ferry to Amsterdam
Newcastle to Amsterdam with DFDS is a perfect crossing from the North of the UK. Honestly, people from Scotland or North England should not look any further. But if you depart somewhere between Leeds and Birmingham, the ferry from Hull might also be nice.
Also, read our complete guide on this route: From Newcastle to Amsterdam.
For people departing from the south of England, we advise you to look at the ferry from Harwich, Dover, or consider the Eurostar.
The ferry that catches the eye the most is the Newcastle-Amsterdam connection. Actually, we should say Newcastle-IJmuiden (a few minutes away from Amsterdam), because that's where this boat moors.
You board a so-called mini-cruise. There is a lot to do on board: bars, restaurants, a nightclub, and other entertainment. It is not the fastest connection, since you sail for over 15 hours. But you can sleep in your own cabin though, which is not very expensive compared to some other ferries.
The big plus is that this ferry arrives in IJmuiden which is pretty close to Amsterdam. From here you can choose one of the following transportation methods:
DFDS bus – €8,-
DFDS has a transfer from the harbor to Amsterdam. This is the most convenient option if you don't have a car. The bus stops near Amsterdam central station from where you can get on a tram to your accommodation. Book this bus connection in advance!
Public transport – 1h 20 mins. 
Bus 358 brings you to Haarlem Railway Station. From here you can buy a ticket to Amsterdam Sloterdijk or Amsterdam Central Station. 
Taxi – €60 or more
A Taxi is always possible but relatively expensive
Car – 40 minutes
Hull-Rotterdam is an ideal crossing for people living in, for example, Liverpool, Manchester, Leeds, or Sheffield. Hull is quite easy to reach and also the connection from Rotterdam to Amsterdam is pretty ok. By car, it is roughly a 1,5 hour's drive. 
P&O ferries transfer bus 1,5 hours+
You can book a transfer bus to both Rotterdam and Amsterdam. Book this in advance with P&O! Please note that there is no public transport from and to the terminal. 
The bus departs at 08:30 (Mon-Fri) and 09.45 (Sat-Sun). It stops in Amsterdam near the Central Station  (De Ruijterkade 151). You will be picked up for your return journey from the same location at 17:00.
Taxi to Amsterdam – €150 or more
A taxi is possible but relatively expensive.
Car – 1,5 hours
Hook of Holland is 53 miles or 85 km away from Amsterdam. If you go by car, this ferry is great. However, the public transport connection from the ferry harbour to Amsterdam is not super. There are a lot of choices to make and it takes at least 1,5 hours to get to Amsterdam. Most of the time this will be more though. 
Public transport – 1,5 to 2,5 hours
The best connections can be found on the Dutch public transport website https://9292.nl/en
Use: Stationsweg 10, Hoek van Holland as the departure address.
Taxi to Amsterdam – €150 or more
A Taxi is possible but relatively expensive
Car – 1 hour 10 mins. 
More information
Dover-Calais / Dover-Dunkirk
The shortest crossings from the UK to the European continent can be found in the Strait of Dover, the narrowest part of the English Channel. This crossing is ideal for people that want to travel by car to Amsterdam and live in the south of England. 
Public transport – 5 to 6 hours
Public transport from Calais is possible but far from ideal because you have to switch 3 times. In Lille, you can board the high-speed train to Amsterdam. From Dunkirk, it is not possible to travel by public transport since the ferry is not suitable for foot passengers. 
Car – 4 hours 30 mins. 
More information
To Amsterdam with the ferry and your own car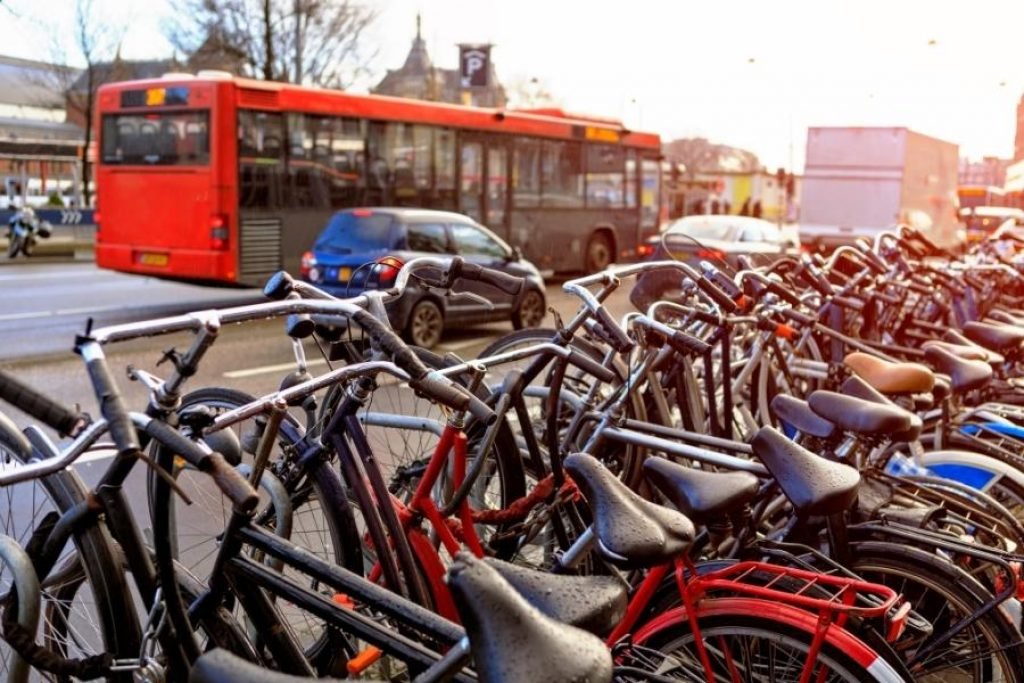 Amsterdam is known for its bikes and is not really a car-friendly city. You can easily drive through it by car, but due to the high parking rates of €7.50 per hour, parking in the city is very discouraged. So if your accommodation does not have parking, you may need to reconsider going by car. Also useful to know: old diesel cars are not allowed in the city centre.
Luckily it is not impossible to take the car with you. There are large parking spaces on the outskirts of the city where your car can stand for a maximum of 96 hours at a favourable rate. (From here you can easily travel to the centre of Amsterdam).
On the map you find some P+R parkings. These are suitable for longer parking. More information can be found on Amsterdam's website. 
Costs P+R parking
Monday to Friday before 10.00: €8 for the first 24 hours. Thereafter €1 per 24 hours.

Monday to Friday after 10.00, in the weekends and during official holidays: €1 per 24 hours.
Frequently Asked Questions
Only one ferry sails to Amsterdam. This is the DFDS ferry from Newcastle to Amsterdam. Strictly speaking, it's not Amsterdam, but we consider IJmuiden close enough.
Two other ferry companies sail to Holland from England. These are P&O ferries, and Stenaline. Amsterdam can be reached within 2 hours from these ports. 
The best crossing totally depends on where you travel from in the UK. Overall we would say that both Newcastle-IJmuiden and Harwich – Hook of holland are popular choices. 
On average, the Harwich-Hook of Holland crossing is the cheapest crossing between the England and Amsterdam. Stenaline offers a very affordable Ferry & Train ticket of €51 per person for a single journey (or £49) with this ticket you can travel for free by train to Greater Anglia train stations in England.
Use our ferry guides and maps
Ask, answer, and explore ferry routes with the community's expertise!