Ferry from Newcastle to Amsterdam
Let's jump to the conclusion right away: The ferry from DFDS, which leaves from Newcastle-upon-Tyne to IJmuiden (a coach transfer will bring you to Amsterdam), is the best option for taking a ferry from Newcastle to Amsterdam.
It's essentially a 'cruise ferry', meaning you will sail on a luxurious vessel.
You'll depart from North Shields in Newcastle at the port of Tyne. You'll arrive in IJmuiden, which is 30 minutes away from Amsterdam.
DFDS. however, got a coach connection setup for this connection: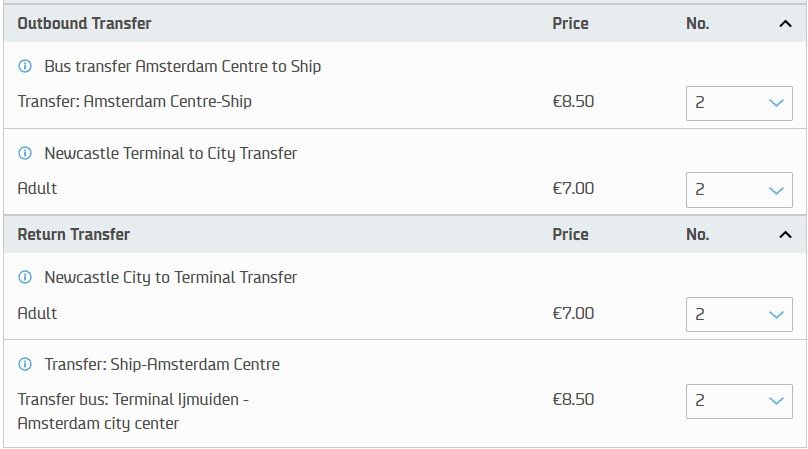 Map with all ferries from Newcastle to Amsterdam
There are a few options to consider when you travel from Newcastle to Amsterdam, however, the best alternative which is a few hours away, leaves from Hull: From Hull to Amsterdam. This ferry however doesn't land you in the heart of Amsterdam. But you need to make a transfer from Rotterdam to Amsterdam.
Distance between Newcastle and Amsterdam
The distance between Newcastle upon Tyne, which is located in northeastern England, and Amsterdam, which is the capital city of the Netherlands, is approximately 474 kilometers (or 294 miles). A ferry crosses this distance in about 16 hours. 
Compare ferry tickets to Amsterdam
Our online booking module makes it easy to find and book your desired ferry crossing from Newcastle to Amsterdam. Especially handy if you want to find the cheapest connection on the day you want to go to Amsterdam.
All ferry options to Amsterdam
More about Newcastle to Amsterdam
Newcastle to Amsterdam with DFDS is a perfect crossing from the North of the UK. Honestly, people from Scotland or North England should not look any further. But if you depart somewhere between Leeds and Birmingham, the ferry from Hull might also be nice.
Also, read our complete guide on this route: From Newcastle to Amsterdam.
For people departing from the south of England, we advise you to look at the ferry from Harwich, Dover, or consider the Eurostar.
From Newcastle to Amsterdam
When traveling from Newcastle to Amsterdam, you'll actually dock at IJmuiden, which is just a few minutes away from Amsterdam. Coaches are available to make the transfer to Amsterdam quick and easy.
The journey itself is quite enjoyable and can be considered a mini-cruise. There are plenty of things to do onboard, including visiting bars, restaurants, and a nightclub, as well as other forms of entertainment. Although it may not be the fastest option, with a sailing time of over 15 hours, you can rest easy knowing you have your own cabin at a reasonable price compared to other ferry services.
From IJmuiden you can choose one of the following transportation methods:
DFDS bus – €8,-
DFDS has a transfer from the harbor to Amsterdam. This is the most convenient option if you don't have a car. The bus stops near Amsterdam central station from where you can get on a tram to your accommodation. Book this bus connection in advance!
Public transport – 1h 20 mins. 
Bus 358 brings you to Haarlem Railway Station. From here you can buy a ticket to Amsterdam Sloterdijk or Amsterdam Central Station. 
Taxi – €60 or more
A Taxi is always possible but relatively expensive
Car – 40 minutes
Just follow the signs to Amsterdam. Very difficult to miss!
The alternative: Hull-Rotterdam
Hull-Rotterdam is an ideal crossing for people living in, for example, Liverpool, Manchester, Leeds, or Sheffield. Hull is quite easy to reach and also the connection from Rotterdam to Amsterdam is pretty ok. By car, it is roughly a 1,5 hour's drive. 

If you want to travel with this ferry and want to go to Amsterdam, here are your options:
P&O ferries transfer bus 1,5 hours+
You can book a transfer bus to both Rotterdam and Amsterdam. Book this in advance with P&O! Please note that there is no public transport from and to the terminal. 
The bus departs at 08:30 (Mon-Fri) and 09.45 (Sat-Sun). It stops in Amsterdam near the Central Station  (De Ruijterkade 151). You will be picked up for your return journey from the same location at 17:00.
Taxi to Amsterdam – €150 or more
A taxi is possible but relatively expensive.
Car – 1,5 hours
Parking in Amsterdam after the ferry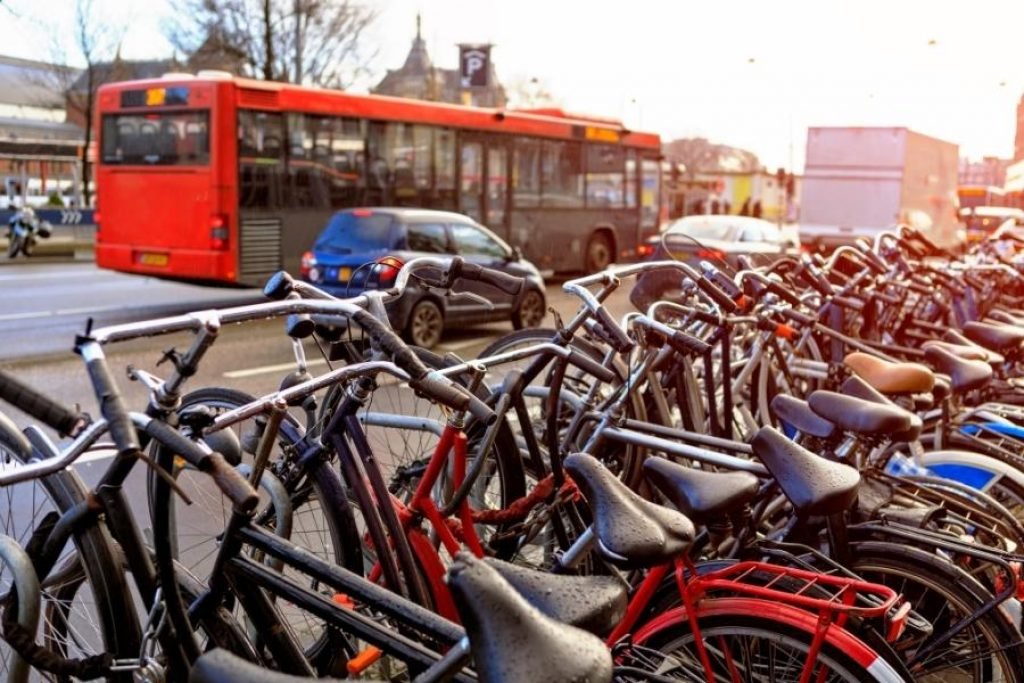 Amsterdam is known for its bikes and is not really a car-friendly city. You can easily drive through it by car, but due to the high parking rates of €7.50 per hour, parking in the city is very discouraged. So if your accommodation does not have parking, you may need to reconsider going by car. Also useful to know: old diesel cars are not allowed in the city centre.
Luckily it is not impossible to take the car with you. There are large parking spaces on the outskirts of the city where your car can stand for a maximum of 96 hours at a favourable rate. (From here you can easily travel to the centre of Amsterdam).
On the map you find some P+R parkings. These are suitable for longer parking. More information can be found on Amsterdam's website. 
Ask, answer, and explore ferry routes with the community's expertise!