While Hawaii does have a few smaller ferries operating between some of its islands, such as Maui and Lanai, there are currently no active large (car) ferries connecting Oahu, Hawaii, and Maui. Why not? Let's find out.
We have to begin with the history of ferries in Hawaii
In the early 70s there was a ferry system (Seaflite) active, you can see this ferry on the following old video at about 15 seconds:
In the 70s however the operations stopped after 2,5 years due to financial problems.
2007 to 2009: Hawaii Superferry
Another company tried this again for 2 years (however the planning already started in 2001) from december 2007 to 2009. Just before 2009 there was a very nice Catamaran ferry active called the Hawaii Superferry which you can see on this article as featured image. Many passengers and island inhabitants were very happy with this new ferry line, on the other side there were also protestors. At one point the protesters went as far as forming a human chain on surfboards in front of the ferry.
The company (Hawaii Superferry) had hoped to return service to Nawiliwili Harbor on Kauaʻi and additionally planned to provide a ferry connection to Kawaihae Harbor on the Big Island.
In 2008, the ferry company and the environmental groups returned to court on an appeal of the decision to allow the ferry to operate while the environmental study was being done. In 2009 the court ruled that it was in violation of the constitution for the Superferry to do so.[1]The history of the ferry service on Hawaii Since then all operations stopped.
The challenges for ferry lines in Hawaii
While 'geography' is mentioned a lot as the #1 reason, we see many ferry routes on even more difficult operational routes. However, it is in this case also a valid reason:

The shortest distance (air line) between Honolulu and Hilo is 209.67 mi (337.44 km).

Distance.to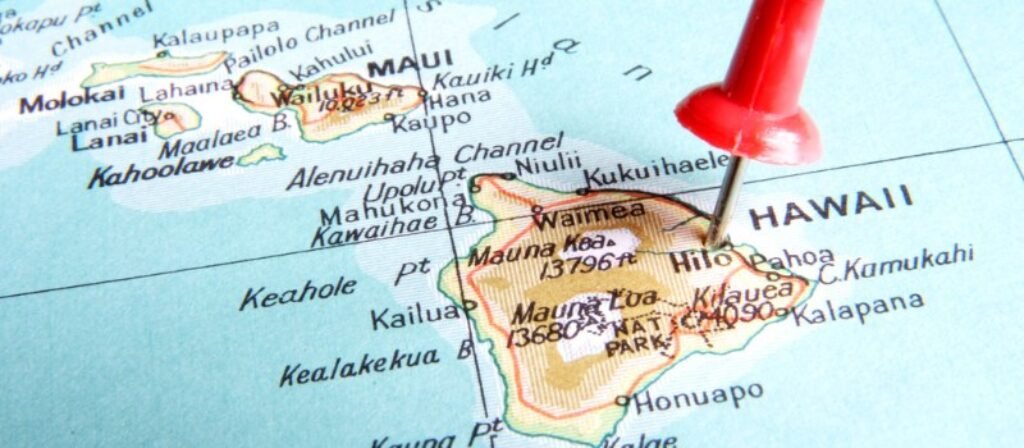 The main thing is that long distance ferries are expensive. It is possible to simply make ferry lines operational when they are this long. But expensive ferries need a much bigger demand compared with cheaper ferry routes. if you would for instance compare Hawaii with the Canary islands (who do have a lot of ferry routes) you only need to look at the size of the islands: Tenerife is almost 2,034 square kilometers. while the island of Hawaii is already 10,432 square kilometers.
The infrastructure is one which could be easily addressed
Infrastructure: There is a lack of infrastructure in Hawaii to support the operation of ferries, such as adequate ports and terminals, which makes it difficult to launch new ferry routes. We simply do not see this as a valid reason for not building a new ferry route here.
The main problems for a route not re-appearing soon:
Competition & Lobbying of the competition: The air transportation industry in Hawaii is well-established and highly competitive, which makes it difficult for ferries to compete with airlines in terms of speed, cost, and convenience.
Environmental concerns: Hawaii has some of the most sensitive marine ecosystems in the world, and ferry operations could potentially harm these ecosystems, which could have negative consequences for the environment and the local economy. This isn't just a problem, it's a major issue that might be the #1 reason that a ferry will never re-appear in on Hawaii.
Electric ferries like they use in Denmark & Sweden could be a fix here for the fat future, but we haven't seen many electric ferries in the US so far, except a few on very small routes. On long routes electricity is difficult anyway, so this will take a 5 to 15 years at least.
Politics and regulatory hurdles
Operating ferries in Hawaii is not just challenging due to geographical and infrastructural issues, but also because of legal and regulatory hurdles that ferry operators need to overcome. This includes obtaining permits and licenses from federal, state, and local authorities, which can be a time-consuming and complicated process.
Furthermore, environmental concerns are an important consideration when launching new ferry routes. Given Hawaii's sensitive marine ecosystems, ferry operators must ensure that their operations are environmentally friendly and that they have robust plans to mitigate any potential harm to the environment.
These factors have made it difficult for companies to establish large ferries in Hawaii, and the significant losses experienced by ferry companies in 2009 have further underscored the risks involved. Therefore, companies that are interested in starting a ferry service in Hawaii must navigate various challenges and take careful steps to ensure compliance with regulations and environmental considerations.
Will there ever be a new ferry connection?
Harbors can be fixed, money might be something that can be fixed as well as there are more tourists coming to the islands. The things that are difficult to overcome are the issues regarding the environment (even though ferries are known to be clean, the old ferries used by Hawaiian superferries weren't clean at all) and the political problems regarding a line like this. You need to have huge local support to make this work. It might need another 10 to 15 years with new technologies (hybrid / clean ferries) to make this work.
Use our ferry guides and maps