We get a lot of questions about passports or IDs needed on ferry travel, as we can't answer all these questions individually, we decided to dig into this topic and provide once and for all the perfect guide for documents that are required when traveling with a ferry from one country to another and what is needed for the ferry crossings. When substantial changes occur, we will update this guide.
Summary: The travel documents needed when traveling by ferry
The required travel documents for ferry travel between countries depend on several factors, such as the countries involved, the citizenship of the travelers, and the purpose of the travel. In general, however, most ferry crossings require a valid passport or other recognized travel documents, such as a visa or identity card, especially for non-citizens.
For citizens of the European Union and the Schengen area, an ID card may suffice for travel within the region. (do check your ferry operator for the exact rules, as many mention that a passport is recommended) Non-citizens typically require a passport, visa, or both depending on the specific country's entry requirements.
Some ferry crossings also require proof of onward travel or return tickets, mostly in combination with a visa.
When you are not sure about your crossing, it's essential to check with the ferry operator (mostly info from the FAQ or the General Terms, we listed many below) and the relevant immigration authorities for specific travel document requirements before embarking; those are the two sources we found the most info.
If you have any questions or need additional info, do not mail us but place a comment below. We will answer the question within 24 hours. Please always double-check this data at the official government websites to which you make a transfer.

The FerryGoGo complete guide for international ferry travel ©
Canada/US Border Ferry ID Requirements
For U.S. and Canadian citizens
When crossing the US/Canada border, US and Canadian citizens are required to present valid travel documents. Acceptable documents (you need at least one of the following) include:
A valid passport
A U.S. Passport Card
NEXUS trusted traveler card
Enhanced Driver's License from one of the following provinces/states: British Columbia, Manitoba, Ontario, Michigan, Minnesota, New York, Vermont, or Washington Stat. Please note: "REAL IDs" (issued by some states to comply with FAA and domestic federal requirements) are not valid travel documents for an international border crossing.
Enhanced identification card (for example enhanced Tribal cards, if available)
U.S. Permanent Resident Card (Green Card)
U.S. Military Identification with military travel orders
U.S. Merchant Mariner Document with official Maritime business
All U.S. & Canadian citizens aged 15 and under only need proof of their citizenship with an original or photocopy of a birth certificate or citizenship card. In some cases, children under 18 who are traveling with a school, religious group, social organization, or sports team may be able to enter under adult supervision with originals or copies of their birth certificates or other proof of citizenship.
Source[1]Coho Ferries: ID Reqs Coho Ferries
For Non-Canadian or US citizens
You always need a valid passport. Additionally, for entry into the US, you need ESTA authorization, be sure to do this in time, as this can take up to 72 hours. Here you can fill in your ESTA application. For entry into Canada, for some countries, you have to get a VISA, here, you can get more info: Visa to Canada.
US/Bahamas Ferry ID Requirements
In accordance with Customs, and Border Protection (CBP) regulations, please be advised that all U.S. Citizens adults, and minors must be in possession of a current, valid passport book or passport card as of, April 23, 2018. [2]Balearia Caribbean: ID Reqs Balearia
While some websites (maybe with outdated info) mention that you can travel without a passport in some cases, we would advise against this,f seeing the rules on Balearia Caribbean. The rules in full:
US residents same day travel:
US Residents must travel with a valid ARC (Green card).
It is advisable to present a valid passport of the country of citizenship at check-in.
If ARC is expired, the traveler must bring the original extension document with the expired ARC card​.
US residents overnight:
Bring ARC (green card) and must have a passport of the country you were born in.
US citizens same day travel or overnight:
All passengers need to bring a valid US passport or a valid us passport card.
EDLs are only valid for day trips and only apply to passengers from Minnesota, Michigan, New York, Washington, and Vermont. The rest of the guests traveling for a day trip need to bring their passports.​​
Euro border cards, sentry, nexus, or global entry cards are not accepted
For current information on regulations for international travel, visit the travel section of the border protection home page: https://travel.state.gov/content/passports/en/passports.html
Make sure your passport's expiration date is more than 6 months after your travel date.
Non-US citizens same day travel or overnight: (entry from the US or Canada to Bahamas)
Valid passport with *valid entry stamp (B1/B2 or w/t countries)
Valid visa with multiple entries (all classifications)
Waiver visa countries must have their Esta form • F1 & M1 visas must have current original I-20 form with valid signatures. Pg 2 Travel authorization must have a current signature.
J1 visas must have a current original DS 2019 form, completed with current signatures. Must have a current signature in the travel authorization box
C1/D Visas cannot travel. C1/d's can only travel on the carrier or vessel in which they are employed. They can travel if they sign off as a tourist and have a valid tourist, B1/B2 or B/1 visa or valid w/t entry stamp under their tourist visa.
If there is no current entry stamp in your passport, you must bring your boarding card or your ticket or if you are traveling with an electronic ticket you must have a copy of your travel itinerary and ticket number.
F1 – You are allowed to travel within your 30-day grace period after the expiration of your F1 visa or I-20 form. Please have a copy of your ticket of return to your country available.
J1 & M1 visas cannot travel after their visa or I20 (M1's) or DS 2019 (J1's) forms have expired. your 30-day grace period allows you to stay in the US without penalty, not to travel internationally, and reenter the US from a foreign destination other than your country of citizenship.
Bahamian VISAs
Some countries require Bahamian visas to spend one or more nights on the island. please check with the Bahamian consulate to see if your country requires a Bahamian Visa for overnight travel.
If a person is born in one country and is a resident in another (other than the US or Canada), Bahamian visa documentation is required based on the country of birth/citizenship.
Bahamian citizens
A valid passport and valid U.S. visa (for travel into the United States).
Arc (alien resident card holders) must have a valid passport and a valid Arc card
Bahamian residents (not Bahamian citizens) must have a valid residency card of the Bahamas or a letter of permission to reside from the Bahamian ministry or a valid residency stamp in their valid passport of their country of citizenship
A one-way ticket to the Bahamas
Only Bahamian citizens or residents can purchase one-way tickets from the US to the Bahamas; all other passengers must show proof that they will leave the island with a different vessel or carrier.
Entry/exit laws and requirements are subject to change without notice.
Source[3]Balearia Caribbean: Travel Documents
From the UK to Mainland Europe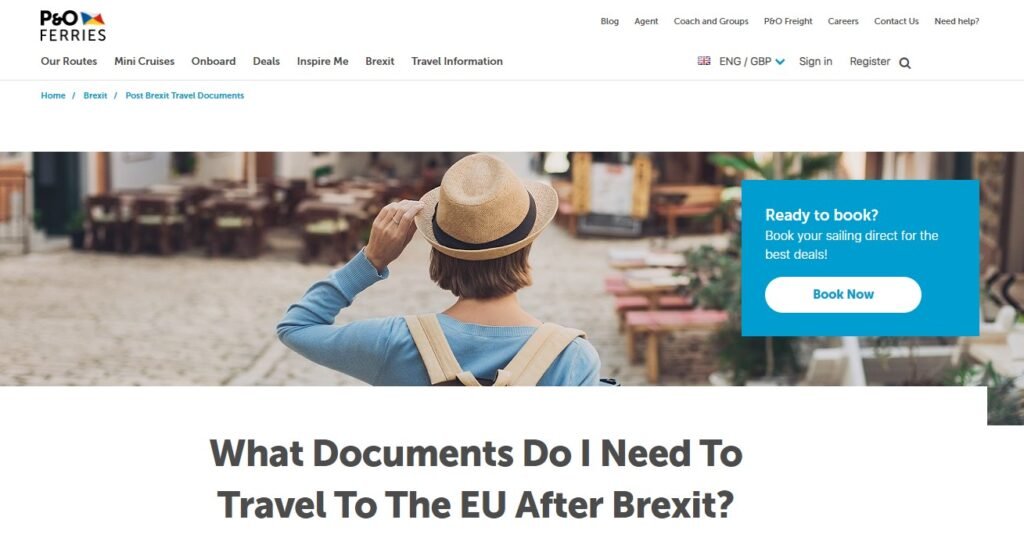 If you want to travel internationally by ferry from the UK to Mainland Europe, you have three options: From the UK to France, from the UK to Spain, and from the UK to The Netherlands.
If you're a UK passport holder traveling into an EU member country (except Ireland) after January 1, 2021, your passport must be valid for at least three months from the date you leave the EU member country unless you have an EU-issued residence permit or a long-term visa. It should also be issued within the previous ten years upon the date of arrival. You are responsible for ensuring your passport is valid for travel to/from the EU.
For French people not resident in the UK entering UK territory, carrying a passport is compulsory, as the identity card is no longer accepted as a travel document. For French people resident in the UK with settled or pre-settled status, the identity card remains valid until 2025. If you have both a passport and an identity card, it is recommended that you travel with the identity document linked to your resident status in the UK.
Non-EU nationals should check with the relevant embassy before traveling as they may need a visa in addition to a passport. EU, EEA, and Swiss citizens can travel to the UK without needing a visa for holidays or short trips. A valid passport, which should be valid for the whole time you're in the UK, can be used to cross the UK border.
Passengers who arrive at ports without a valid passport or officially recognized European Union ID card (and a visa if required) will not be allowed to travel and/or enter either mainland Europe.
Source[4]Irish ferries: Passport rules to Mainland Europe
From Mainland Europe to the UK
If you want to travel internationally by ferry from Mainland Europe to the UK you have three options: From the Netherlands to the UK, from Spain to the UK, to the UK from France. The rules are more or less the same as mentioned above as you can see in the points below:
All EU citizens (including children and infants) traveling to/from England must hold a valid passport valid beyond the date of return.
All UK citizens (including children and infants) traveling to/from the Netherlands must hold a valid passport valid for 3 months after the date of return.
Other passport holders should check with the relevant embassy regarding passport and visa requirements.
Source[5]Stena Line: Travel ID Reqs
UK/Ireland ferry ID Requirements

It is highly recommended that all passengers traveling between the UK and Ireland bring a valid passport when traveling. Even though Irish and British citizens are not legally required to present their passports when traveling between the two countries, they still need to provide some form of photo identification.
However, passengers who are not Irish or British citizens need to present their passports, and they should also check with their respective embassies to determine if they need a visa before traveling. In the event that passengers arrive at the ports without any valid documentation, they may be denied entry into either Ireland or Britain.
To ensure a smooth and hassle-free travel experience, passengers should carry any of the following valid means of identification when traveling on these routes: a valid passport, photographic driving license, international student card, government-issued photographic ID cards, health insurance/social security photographic ID cards, photographic bus/train pass, place of work photographic ID, or birth certificate (for passengers under 18 years old with no photo ID).
England/Northern Ireland Ferry ID Requirements
These requirements are the same as the above "UK/Ireland ferry ID Requirements".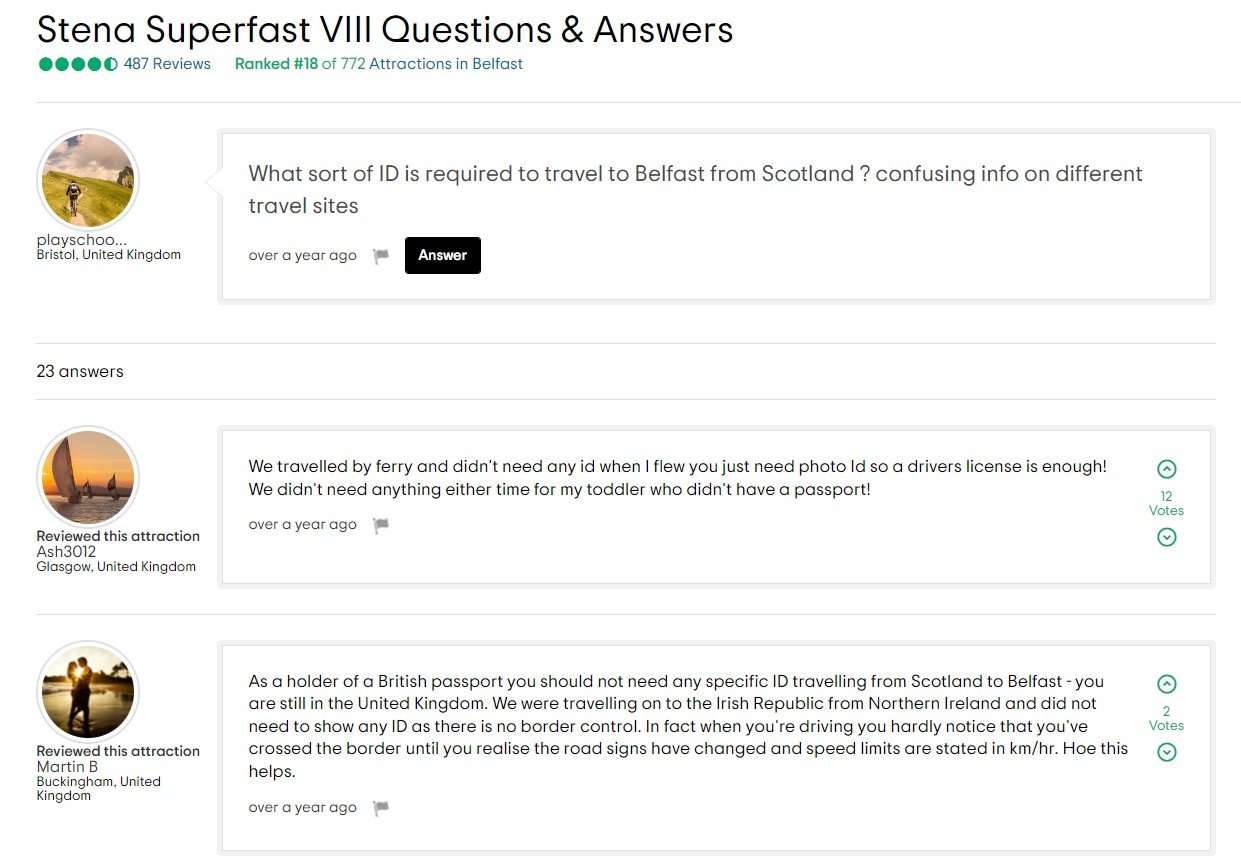 Ireland to Mainland Europe Ferry ID Requirements
While many travelers think that Ireland is within the Schengen area, this is not the case. You can see this on the map below, which is why many people wonder how IDs work when traveling from Ireland to Mainland Europe.
Because of this, the rules are the same as the rules when traveling from the UK to Europe:
UK citizens traveling to/from Continental Europe must bring a valid passport. Remember that the name on the passport must match the name on the booking; otherwise, you may not be able to travel, and your insurance may be invalid.
A passport for all UK citizens (including children and infants), valid for 3 months beyond the proposed date of return, is required for all trips to Continental Europe. We reserve the right to check and record details of such documentation and to refuse your permission to board if such documentation is not produced to our satisfaction. You will be required to reimburse us in full for any fines, repatriation or other removal costs, detention costs, and all related expenses which we may bear or incur because of your failure to produce such documentation to the relevant authorities.
It is essential to have your passport close to hand for possible inspection when checking in, embarking on the vessel, disembarking it, and entering a country.
EU citizens in possession of an officially recognized European ID Card may use this or a valid Passport with an MRZ code when traveling from between Ireland and Mainland Europe. In some cases, a visa may also be required. Remember that the name on your passport/European Union ID card must match the name on your booking otherwise, you may not be able to travel and your insurance may be invalid.
A passport/ European Union ID card for all EU citizens (including children and infants), valid beyond the date of return, is required for all trips to/from France.
Other passport holders should check with the relevant embassy regarding passport and visa requirements.
Source[6]Stena Ireland: Passport Rules
Germany/Denmark ferry ID requirements
The ferry routes below connect Germany with Denmark, these routes are within the EU / Schengen zone, which me EU Citizens can travel with a valid ID.
For travelers from within the EU / EEA a valid passport with an MRZ code or a National Identification Card of EU standard with an MRZ code and/or chip, issued by a national authority within the EU / EEA can be used. Nordic citizens may also use a driving license issued in a Nordic country.
When you are an EU national, you do not need to show your national ID card or passport when you are traveling from one border-free Schengen EU country to another. Even if you don't need a passport for border checks within the Schengen area, it is still always highly recommended to take a passport or ID card with you.
Sweden/Denmark ferry ID requirements
When you are an EU national, you do not need to show your national ID card or passport when you are traveling from one border-free Schengen EU country to another. Even if you don't need a passport for border checks within the Schengen area, it is still always highly recommended to take a passport or ID card with you.
Europe Mainland/Norway ferry ID requirements
When you want to travel to Norway for less than 90 days, you do not need a visa, as long as you are in possession of a passport from one of the Schengen countries. Traveling to Norway is only possible with a valid passport or valid identity card. Please note: a driver's license is not a valid travel document! Source[7]Holland Norway Lines: Travel Information
Spain/Morocco ferry ID requirements
There are multiple ferry lines leaving from Spain to Morocco per day. The travel ID requirements for Spain/Morocco are the same as for France/Morocco. The rules are strict on this crossing:
When traveling to Morocco, you must have a passport. For passengers from certain countries, a visa might also be needed, which should be obtained at the country's consulate. You can consult the list of countries that do not require a visa to enter Morocco here.
During the ferry, you might need to fill in a form (Was at least so during cover-19), which can be found on the ships. At our sales points, you'll find forms for passenger control. The white form (for entry to Morocco) should be correctly filled in and presented to the authorities, who will be found on the ship. The form should be delivered during the crossing.
Traveling with a vehicle on these ferries: If you travel to Spain, you need to show your circulation permit and insurance. If you travel to or from Morocco, you need to present the vehicle's technical data sheet, registration certificate, and valid insurance. In case the car is not yours, you also need to present authorization from the owner (stating the ID of both and a declaration of authorization) and a photocopy of the ID of the owner on both sides.
Source: [8]FRS: Travel ID Documentation
Tunisia / Mainland Europe ID requirements
We have to be completely honest that the data regarding ID requirements on these ferries are limited due to the companies sailing on these routes do not provide sufficient info.
Are you headed to/from Tunisia? Always carry the following with you:
Your Ticket
Passport
(visa if applicable)
Prove of stay (like a hotel booking confirmation or whatsoever)
Check the validity of the documents before departure.
Source[9]GNV: Travel ID Reqs
Passport validity to Tunisia from the UK perspective
If you are visiting Tunisia, your passport should be valid for the full duration of your stay. You don't need any additional period of validity beyond this. Dual British-Tunisian nationals should enter and leave Tunisia on their Tunisian passports. Check with your travel provider to make sure your passport and other travel documents meet their requirements. For visits lasting less than 90 days, British passport holders do not need a visa to enter Tunisia. For stays longer than 90 days, you will need a visa. You should contact the Tunisian Embassy in London for information on how to apply,
Europe Mainland/Sweden ferry ID requirements
Both countries will be in the Schengen Zone, meaning you 'can' travel by ID alone. However, a passport is always recommended:
That said, it's legal for the police to check that you're in the country legally, and in some countries, you're required to carry an ID. If you're a Swedish citizen, your National Identity Card should be fine.
On the website of TT-Line, they state the following:
For traveling with our Sweden ferries you need a valid passport or if you are an EU citizen a valid identity card will also be approved. The documents will be checked at the Check-In or on board. Please note that children also need their own identity card.
Source[10]TT-Line: Before your trip
Argentina/Uruguay ID Requirements
For citizens of many territories, including the United States, Australia, Canada, members of the EU, Mexico, Bolivia, Argentina, and more, only a valid passport or ID card is needed to enter Uruguay if your visit is under 90 days and your purpose is tourism. The same rules more or less apply when you visit Argentina.
If you are from Argentina or a National identity document (DNI) card will do on this trip.
Denmark/Iceland ferry ID requirements
This is what you need on the ferry connection from Denmark to Iceland (Keep in mind Iceland is within the Schengen zone)
Travel documents on this ferry:
All travelers must be in possession of a valid travel document, ready to present if requested. Travelers are liable for any expenses that may arise if travelers are refused entry due to missing travel documents.
All travelers are strongly advised to bring along with them a valid passport, as a passport is the only valid identity caution for international travel. Leaving/entering the Schengen area, a valid passport is compulsory. If a traveler does not have an EU passport, this should be mentioned when the booking is made.
Source[11]Smyril-Line – General Terms
Singapore/Indonesia ferry ID requirements
To enter Singapore, travelers must meet the following immigration requirements:
Passport Validity: Have minimum 6-month passport validity if you are not a Singapore passport holder
Visa: Short-term travelers holding a passport or travel document from a visa-required country/region must apply for a Visa. Visa-required travelers can use the Visa-Free Transit Facility for a stay of less than 96 hours in Singapore if eligible.

SG Arrival Card (SGAC): All travelers must fill in the SGAC declaration up to 3 days before arrival
Only Singapore Citizens, Permanent Residents, and Long-Term Pass Holders entering via land checkpoints do not need to fill in the SGAC
When you want to take a ferry to Indonesia:

Passport: Your passport or traveling document must be valid at least six (6) months after the date of entry.
Visa: Countries/Passports that DO NOT REQUIRE VISA for a short visit.
If you are holding a passport issued by one of the following countries, VISA is not required to Indonesia:
NOTE: You can only stay in Indonesia for up to 30 days without a visa and for leisure purposes only. If you are going to Indonesia for business purposes, you are advised to apply for a business visa. Please refer to your nearest Indonesian embassy or visit their website for more updated information.
Singapore/Malaysia ferry ID requirements
Malaysia/Indonesia ferry ID requirements
Check the above connections for more data regarding the ID needed on this connection.
Visa requirements by country: Malaysia info
St Martin/St Barts ferry ID requirements
Definitions
EEA: The EEA includes EU countries and also Iceland, Liechtenstein, and Norway. It allows them to be part of the EU's single market.
Schengen Area: The 27 Schengen countries are Austria, Belgium, Czech Republic, Croatia, Denmark, Estonia, Finland, France, Germany, Greece, Hungary, Iceland, Italy, Latvia, Liechtenstein, Lithuania, Luxembourg, Malta, Netherlands, Norway, Poland, Portugal, Slovakia, Slovenia, Spain, Sweden, and Switzerland.
EFTA countries: (Iceland, Liechtenstein, Norway, and Switzerland)
Frequently Asked Questions / Exceptions