The ferry from Kiel to Oslo connects Germany with Norway. The crossing is operated by Color Line and takes about 20 hours. The ferry offers a range of facilities and activities for a comfortable and enjoyable journey. The price of a ticket may vary depending on the season and the type of package.
Ferry crossing from Kiel to Oslo
The ferry from Kiel to Oslo is a luxurious cruise ferry. The boat is equipped with extra entertainment and comfort to make the crossing even more fun. This crossing can, therefore, also be booked as a mini-cruise for two days. The stay in Oslo on a mini cruise is quite short.
This ferry crossing is a frequently used ferry service for travellers to Norway and Germany (from Norway). It is (often a cheaper) alternative to the ferry to Norway that departs from Emden, also in Germany.
This ferry, between Kiel and Oslo, is probably, at the moment the most luxurious ferry route in the world. This ship really offers the entertainment normal cruise ships give you.
Route from UK via The Netherlands to Kiel and Oslo
When you travel from the UK to Kiel and Oslo, so from the UK to Norway, you'll probably first make a crossing to the Netherlands. From there you can drive to Kiel and take the next ferry to Oslo.
Route map Kiel – Oslo
From the Netherlands, the harbour of Kiel can be reached in a 10-hour drive (930 km from the center of the Netherlands). After you get to Kiel, you can board in the evening and be in Oslo the next day. This crossing is a night crossing where you check in at 9.15 pm and depart at 11.45 pm.
Timetable Kiel – Oslo
The ferries between Oslo and Kiel have a fixed timetable. The ships Color Magic and Color Fantasy return and depart from Kiel and Oslo at 14:00.
Departure and arrival times:
From Kiel to Oslo: 14:00-10:00
From Oslo to Kiel: 14:00-10:00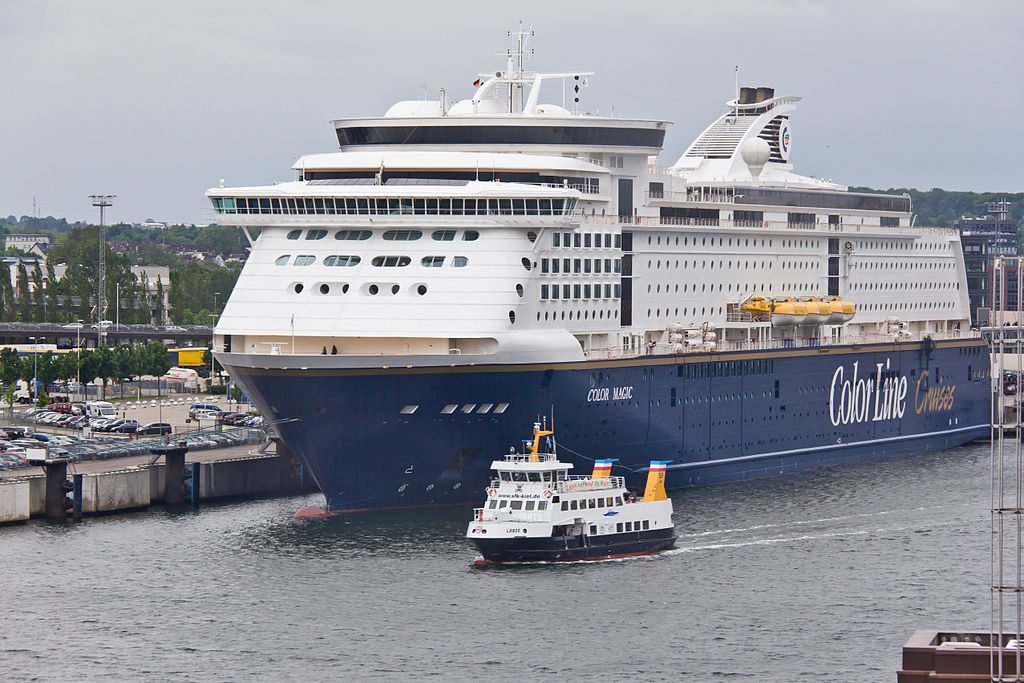 Departure, sailing time & arrival
How long in advance do you have to be present?
Passengers traveling with a vehicle must be present at the terminal two hours in advance. Foot passengers must be present at least 60 minutes before departure. The check-in counters close at least 15 minutes before the boat departs. Passengers taking a mini cruise from Kiel can use this 15 minutes as the latest check-in time in Oslo.

Address Color Line Terminal Kiev
Color Line Terminal Norwegenkai 24143 Kiel/Garden

Duration: Kiel – Oslo
The ferry from Kiel to Oslo and vice versa is a cruise ferry and it takes around 20 hours to make the crossing.

Address Colorline Terminal Oslo
Hjortnes
PB 1422, Vika
N-0115 Oslo
Norway
Ferry Kiel-Oslo costs

This crossing of Color Line is not cheap, but it covers quite a distance. In addition, this crossing is a night trip, saving you accommodation costs. So you do get value for money. Comparable crossings such as Emden-Kristiansand can be even more expensive.
Rates one-way crossing Kiel – Oslo
The starting price for a 2 persons 1-passenger car is €414.
The starting price for 2 persons without transport is €264,-
About Norway
Norway has a lot to offer: from the Northern lights to the midnight sun and from the Fjords, to the mountains, glaciers, waterfalls, and national parks. Next to the various nature experiences Norway also has a lot of vibrant cities where there is a lot to do and see. From Bergen to Oslo, and Tromso to the Lofoten, from road trips to culture, Norway is a must-see vacation destination.
Frequently Asked Questions Kiel-Oslo ferry
There are a number of questions that are often asked about this crossing:
Which ferry companies operate between Kiel and Oslo

Currently, this route is only sailed by the shipping company Color Line.
What are good alternatives for this crossing?