First of all: What a beautiful island this is. Martha's Vineyard is located off the coast of Massachusetts and has beautiful scenery and interesting history. But are you looking for isolation? This is not your type of island. In fact it is very popular among American and international tourists.
Why is that? We're going to tell you now:
1. Visit MVY because: Obama did it
Don't expect Martha's Vineyard to be a desolate island. It's a favourite holiday island for many tourists. And also celebrities know where to find MVY. For example, the Kennedys, Obamas and Clintons regularly celebrate their holidays here.
2. Visit MVY because: you are brave enough to sunbathe on the Jaws beach
Martha's Vineyard has a number of stunning beaches, each with its own character and atmosphere. Our top 3 beaches in Martha's Vineyard:
Menemsha Beach: perfect family beach for kids to play, relax and -at the end of the day- enjoy the beautiful sunset
Katama Beach (South Beach): fantastic beautiful long beach with high waves of the Atlantic Ocean
Joseph Sylvia State Beach: With a sandy beach and shallow water, State Beach is an ideal family beach. The place was the setting for the beach scenes in Spielberg's movie Jaws. Bit illegal, but oh so exciting: do you dare to jump off the Jaws bridge?
3. Visit MVY because: There's a real Christmas Gingerbread village
You will find the most adorable houses in Oak Bluffs. It's like walking around in a miniature Christmas village. Oak Bluffs and Edgartown are picturesque villages with beautiful historic streets and houses from the time whaling brought great prosperity to the island.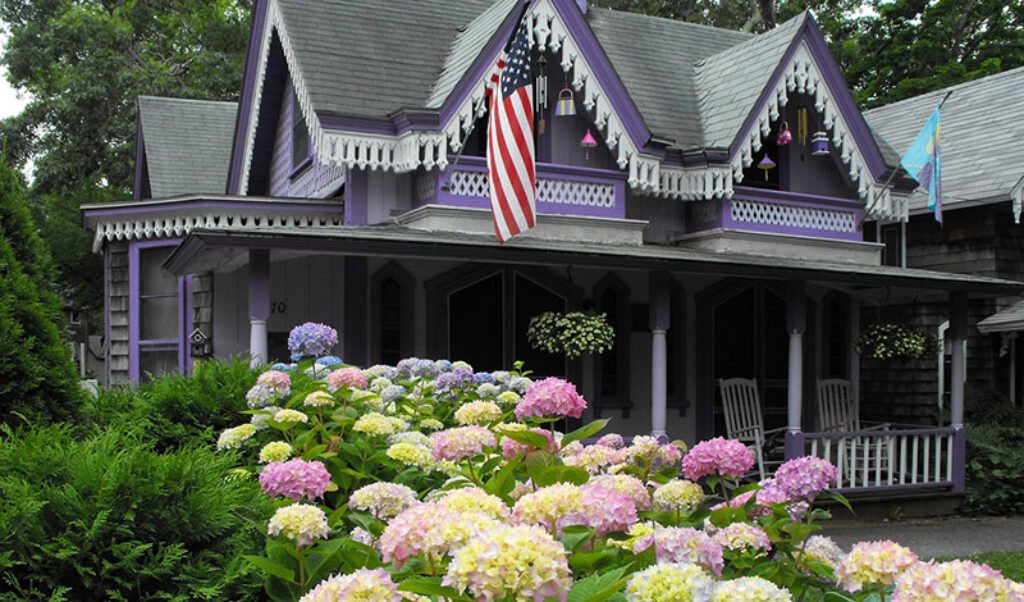 4. Visit MVY because: Cycling through nature is awesome on Martha's Vineyard
Rent a bike and explore the beautiful countryside and small towns of the island; the place has good cycling paths and beautiful cycling routes. And on an American island like this you obviously have to surf, water or jet ski for at least one day.
5. Visit MVY because: You will love the Aquinnah Cliffs
The rainbow cliffs on the south shore of Martha's Vineyard are truly stunning. The Aquinnah Cliffs are made of red and orange clay and in late afternoon, when the sun shines on them, they form a beautifully coloured natural phenomenon to look at.
A few final tips for your ferryboat to Martha's Vineyard:
Use our ferry guides and maps